The 'Lockjaw' and 'Rhino' helmets





The Lockjaw helm (left) beside a polyurethane foam prosthetic mask (see page two for an alternate prosthetic). Note that the mask has hard plastic teeth and pierced jewelry. It is designed to fit in the Lockjaw helm specifically. The Rhino helm (right) is designed for a larger prosthetic mask.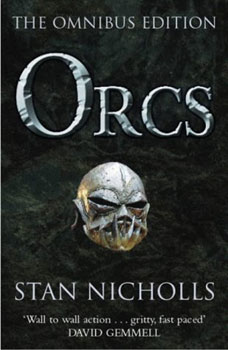 The 'Lockjaw' helmet was used for the cover of
Stan Nicholls' book entitled 'Orcs'.




The 'Lockjaw' helmet with its toothy grimace is an original design inspired to invoke fear and encourage dental hygiene. These helmets are cast in a black plastic and given two different weathered and distressed special effects paint jobs to simulate varying degrees of a battle damaged finish. The sculpture in co-ordination with the paint scheme make a very convincing piece, even when closely scrutinized.

Shown here with two different paint schemes: an oiled and distressed iron, and a heavily corroded iron finish.

Our lit eye device shown separately and in use in the Lockjaw helmet for that extra creep factor.





Some details of the Lockjaw helmet.
The Rhino helm
See page 2 with a Goblin mask and full Moria Orc